Rural economy in Guizhou gets push from chive plants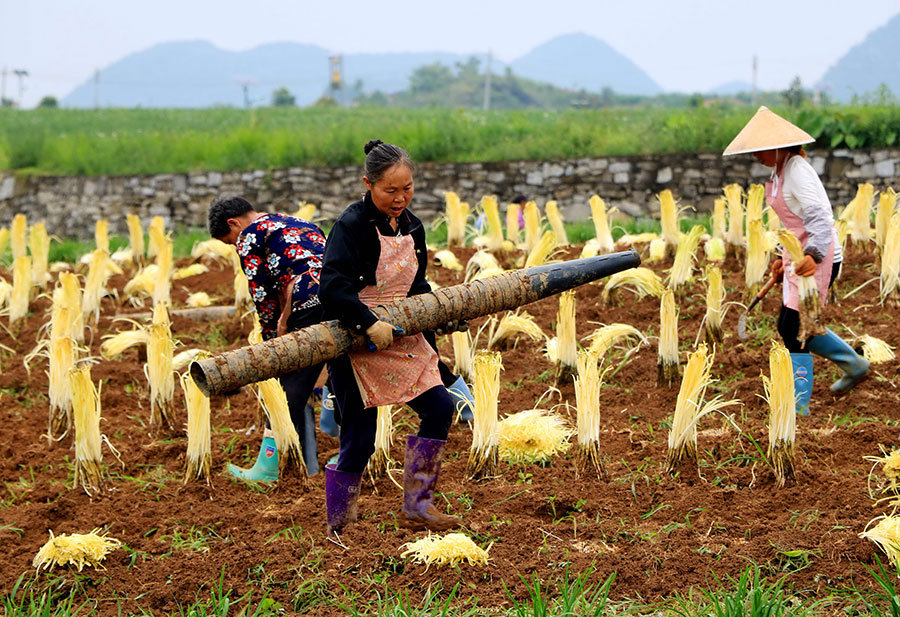 As a mountainous province, Guizhou is making full use of its few flat areas of land, or baqu, to develop economic crops while decreasing traditional crops like corn in an effort to adjust the local agricultural structure to make rural villagers wealthier as soon as possible.
Wang Houde, a farmer in Puding county, used to earn only 3,000 yuan ($423) per year from planting corn on his 2,000 square meters of land.
However, he now earns 10 times as much annually after joining neighbors several years ago to use his land for planting jiuhuang, or Chinese chives, a popular vegetable.
The chives, which can be harvested two or three times a year, are more profitable than corn. The output value of chive crops per hectare can reach at least 300,000 yuan, more than 20 times that of corn and 10 times that of rice, Wang said.
With an average altitude of 1,400 meters, the land in Puding boasts relatively low temperatures, fertile soil and sufficient water, which is suitable for growing chives.
Wang now receives about half his income from a local rural cooperative, which collects and manages villagers' land, while earning the rest by working at the cooperative, known as the Xinzhongtianba Chives Planting Base.
Some villagers can even earn dividends from the profits of companies that work with local rural cooperative societies for collecting and selling finished chives.
Zhang Heshun, a Huaxin villager, now has an annual income of more than 40,000 yuan thanks to the shares he bought from the village's planting company in 2016. Each year, he can earn a dividend of as much as 10,000 yuan.
The agricultural development measures in Puding county that promote cooperation among villagers, societies and companies have provided 20,000 jobs for local residents, 65 percent of whom are poor, according to the local government.
The annual income for each resident has increased on average by more than 3,000 yuan. And the county's incidence of poverty has fallen from 28 percent in 2014 to 1.66 percent last year, it said.
Statistics show that Puding county has accumulated more than 40 square kilometers of land for planting chives, which can yield 750 million yuan each year.
"The rural industrial revolution across the country needs to change from decentralized production to market-oriented large-scale production, thus giving full play to the scale effect of the industry," said Lu Guangmi, an expert with Guizhou Academy of Social Sciences.
Lu said the growth of traditional crops with low benefits should be reduced, while the production of fast, efficient cash crops should be encouraged.
Like chives, other crops that have high output value-such as tea, mushrooms, Chinese medicinal herbs and peppers-are also planted by rural cooperatives on baqu.
More than 1,600 baqu in the province, each of which has an area of more than 33 hectares, are developed in this pattern to ease management of the land and promote the local brand.
For example, buyers from big cities are getting to know the crops grown in Guizhou and are coming to the province to buy products in large amounts.
"Green mountains and clear water can be mountains of gold and silver," said Zhu Qizhen, a researcher at China Agricultural University.
He said that the special geological conditions and natural resources in Guizhou make it a perfect place to develop agricultural products such as vegetables, tea, mushrooms and Chinese medicinal herbs.