Child starts learn early lessons in model life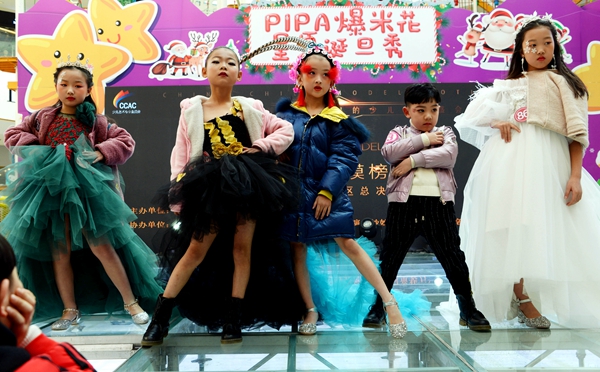 While critics complain that the practice is exploitative, many parents say the catwalk has boosted their offspring's self-esteem. Li Hongyang reports.
Zheng Xinyan, a 5-year-old girl from Hangzhou, Zhejiang province, earns money more quickly than her father by modeling clothes and posing for photos for online retailers. She can earn about 200 yuan ($28) per photo and model dozens of outfits a day, which far outstrips her father's earning power.
A brief introduction on umoer, a website for agents, claims that Zhang has a year's experience in the modeling trade and has mastered multiple styles, such as "preppy", "lady", "leisure" and "street fashion".
Her father, Zheng Xu, who owns a clothes shop, said standards for child models are not high. As long as a child looks cute, he or she can become a model.
The 27-year-old is one of many parents who have grabbed a share of the booming child model market. According to a report by the Forward Industry Institute, a consultancy in Beijing, the children's wear market in China was worth 147.4 billion yuan by 2016, a rise of 7.43 percent from the previous year.