Despite India's tax cuts, risks of slowdown loom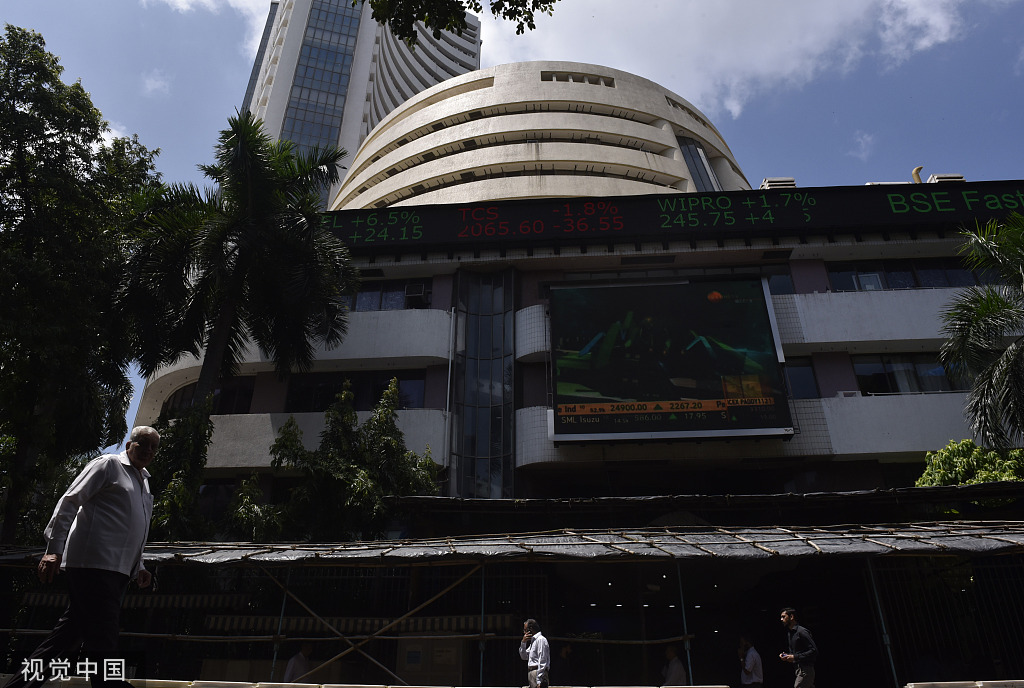 The Indian government's latest moves to spur economic growth have achieved initial results, but the risks of a slowdown still loom large, according to analysts.
In a significant move, the government announced in September its decision to cut basic corporate tax rates to 22 percent for all domestic companies that do not receive any tax exemptions or incentives, and 15 percent for manufacturing companies incorporated after October. Industries and businesses have welcomed the tax cuts, and stock markets recorded sharp gains.
Rajiv Memani, the chairman of the Indian unit of global professional services company EY, is confident the new rate will reduce the cost of capital and catalyze investments by repositioning India as one of the most competitive economies.
"In a way, (the government of India) has handed over its own corpus of about ($2 billion) to India Inc to improve its balance sheet," Memani wrote in The Economic Times newspaper.
"The alacrity with which it has acted ... is commendable. It is now for India Inc to rekindle its entrepreneurial spirit and make fresh investments," he said.
Encouraged by years of fast growth, the government of Prime Minister Narendra Modi has envisioned the size of the Indian economy to catapult from $2.8 trillion to $5 trillion by 2025.
But the country's GDP growth hit a six-year low of 5 percent in the first quarter (April-June) of the financial year. The first-half GDP growth could be 5.2 percent, according to reports by India Ratings and Research, adding that the growth may recover to 6.9 percent in the second half of the current fiscal year, mainly on account of the base effect.
The $5 trillion target is "arbitrary," said Mihir Swarup Sharma, an economist associated with New Delhibased policy think tank the Observer Research Foundation.
There is a severe slowdown, he said. "Structural as well as cyclical factors have combined to make this a particularly difficult crisis."
"What can be done depends on whether the short or long term is prioritized. If it is the short term, then tax cuts will help. But for long-term prosperity, tax changes must be ignored in favor of structural reforms of land and labor (laws)," he said.
The government's own think tank, NITI Aayog, conceded that the situation is grave.
"This is an unprecedented situation.... In the past 70 years, nobody had faced this sort of situation where the entire financial system is under threat," Rajiv Kumar, the vicechairman of NITI Aayog, was quoted by news agency IANS as saying.
Kumar expressed particular concern over a "liquidity crisis wherein lenders have stopped funding businesses, resulting in a situation where they have to survive on cash".
A few sectors, such as the automobile industry, which now faces one of its worst slowdowns, are ominously close to recession. Maruti Suzuki, the largest automaker in India, laid off 3,000 contract workers recently. Ashok Leyland, a maker of large vehicles, has announced nonworking days at some facilities.
According to the Society of Indian Automobile Manufacturers, car sales are at their lowest in 21 years. The automobile sector, which contributes more than 7 percent of India's GDP, has seen a loss of about 350,000 jobs in recent months.
In a bid to spur investment and create jobs, Modi's government has set up two new Cabinet committees - one on investment and growth, the other on employment and skills development.
This is a major step toward achieving Modi's 2025 vision, Information and Broadcasting Minister Prakash Javadekar told an event organized to celebrate the 100 days of the government's second term in office.
However, economist Abhirup Sarkar, who teaches at the Indian Statistical Institute, said stimulus of any kind will not work in the longer term, especially at a time when the fiscal situation is very tight.
He said employment figures are extremely worrisome. "Job loss, lack of fresh jobs' creation and dwindling demand are making the task of the government formidable.
"And when the demand is low and job cuts happen, it has a ripple effect," Sarkar said.
Another economist, Anup Sinha, a former professor at the Indian Institute of Management Calcutta, expressed concern about impending joblessness. "As a result of acute uncertainties in the job market, the rising middle class with high disposal incomes is becoming weak and shaky. And that is having an effect on the demand side and the consumption pattern," he said.
"Unless you can create opportunities for the young and aspirational, India's dream of reaping demographic dividends will remain elusive," Sinha said.
Satyam Roychowdhury, chancellor of Kolkata-based Sister Nivedita University, underscored the urgent need to produce a world-class workforce by imparting top-class education and top-notch skills.
"That's the precondition for any globalized and developed economy," Roychowdhury said.