Embarking on a career in planting trees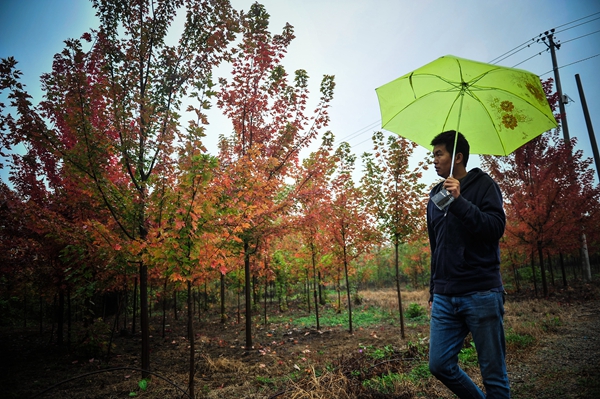 Wang Kun, who was previously a white-collar worker in Beijing, now takes care of 300,000 trees scattered across the landscape in his hometown in North China's Tianjin.
"Planting trees improves air quality and enriches urban color," says the 32-year-old who grows trees on a 33.3-hectare planting base.
Wang mainly plants multiple acer rubrum trees with names like "red sunset", "autumn blaze" and "autumn fantasy". Unlike the commonly planted willows and poplars, the salt-tolerant maples brighten the autumn months with brilliant red leaves.
In a spacious greenhouse, mist irrigation starts every few minutes to ensure the 20,000-odd rubrum trees take root in the sandy soil.
The idea of embarking on a career in planting trees popped into Wang's mind six years ago, when he finally saw the wood from the trees.
"There was a lack of color in autumn as we had so many yellow-dominated trees," Wang recalls.
However, it was not an easy start. Wang, who studied packaging engineering in college, did not have green fingers.
After learning from books and doing fieldwork, Wang felt he was finally ready to start his business. He bought tens of thousands of "red sunset" maple saplings and took good care of them. Unfortunately, all of them died.
The money loss rankled with his family. Wang turned to experts and conducted repeated experiments by constantly adjusting the temperature, humidity, light and soil in his greenhouse.
Through trial and error, he eventually found half of the saplings survived. Then, that number grew to 90 percent.
Liang Xiaogang from Cashway Fintech has been satisfied with the 50 autumn blazes he bought from Wang to celebrate the company's 15th anniversary and looks forward to enjoying the cascade of red leaves in late fall.
Landscape gardens hold an important position in traditional Chinese culture and reflect people's aesthetic appreciation and the realm of life, says Wang Guanqiang, a Tianjin Academy of Fine Arts graduate and now assistant professor at Macao University of Science and Technology.
"The landscape design industry will flourish as the construction of the urban environment continues," Wang notes.